The Writing Majors
was a webseries created by
Shelby Stillwell
, based around the idea of an alternate universe where major writers in the western canon are writing majors at the same modern-day university. It premièred on YouTube on Dec 26, 2014 and ran for 23 "official" episodes with 6 "extras" episodes, ending on May 29th, 2015. Many of the characters also had twitter accounts. The idea for the series was conceived just 2 weeks before the first episode aired, most of the scripts were written in 1 week and the majority of the series was filmed in a single day.
The series focuses around the lives, loves and misadventures of Emily Dickinson, Jane Austen and Oscar Wilde who all share an apartment and study creative writing at Prospero University. While Emily learns to cope with her anxiety issues and films the world around her to secure it against death, Jane struggles with her love/work life balance and Oscar's preconceptions of dating are challenged when he begins to fall for the enigmatic Will Shakespeare.
Shelby Stillwell as "Emily" (Dickinson)
Cody McCoy as "Oscar" (Wilde)
Carly Hayes as "Jane" (Austen)
Alex Evans as "Will" (Shakespeare)
Chris Jett as "Jack" (Kerouac)
Ashley Corral as "Emmy" (Bronte)
Mariah Shaw as "Charlotte" (Bronte)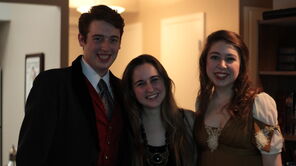 Rett Keeter as "Scott" (Fitzgerald)
Alyssa McCoy as "Louisa" (Alcott)
Kelsey Higley as "Agatha" (Christie)
Zina Rentfrow as "Virginia" (Woolf)
Ruby Shadly as "Zelda" (Fitzgerald)
Tyler McCoy as "that other guy"
Episodes
Edit
| No. | Episode Title | Episode Description | Run Time | Original Airdate |
| --- | --- | --- | --- | --- |
| 1 | Thanks for the Camera!! | Emily receives a camera for Christmas and uses it to introduce her roommates to her parents. | 4:23 | Dec 26, 2014 |
| 2 | The Writing Majors New Years Party! | The trio attends a New Years Eve party hosted by Charlotte for the writing department. | 5:34 | Jan 2, 2015 |
| 2.2 | New Year's extra video - Our Resolutions! | Emily pulls everyone aside to ask about their new year's resolutions. | 1:42 | Jan 7, 2015 |
| 3 | The "Friend Zone" | Jane talks about losing friends to the "friend zone." | 4:41 | Jan 9, 2015 |
| 3.2 | "The Writing Majors!" That's us! Welcome to our channel! (officially) | Oscar and Jane take over and do their own channel intro. | 2:55 | Jan 14, 2015 |
| 4 | Back to School! | Jane and Oscar talk about their first day back at school. | 5:50 | Jan 16, 2015 |
| 5 | Pluff (?) | It's a snow day so the trio decide to play Oscar's version of Epic Scrabble. Things don't go as Jane and Emily expect. | 6:14 | Jan 23, 2015 |
| 5.2 | Our Night Out.... | After losing to Oscar, Jane and Emily face their punishment by going to a dance club and trying to have a night out like regular people. | 1:55 | Jan 28, 2015 |
| 6 | (High) Maintenance | A pipe starts to leak in the apartment which leads to a confrontation between Jane and Emily about calling a plumber. | 3:30 | Jan 30, 2015 |
| 7 | Unexpected Assistance | Emily and Charlotte have a heart to heart. | 3:21 | Feb 6, 2015 |
| 8 | A Day in the Life | The trio work from home and Oscar's new friend Will stops by. | 7:04 | Feb 14, 2015 |
| 9 | Masquerade! | Time for a surprise masquerade carnival! With dancing! | 5:17 | Feb 20, 2015 |
| - | The Oscar's with Oscar | Oscar watches The Oscars. Need we say more? | 6:18 | Feb 23, 2015 |
| - | Party Bonus! 2 Truths and a Lie | Bonus footage from episode 9. | 3:08 | Feb 25, 2015 |
| 10 | Nevermore | Emily's anxieties grow while Oscar calls for a roommate meeting. | 5:19 | Feb 27, 2015 |
| 11 | The Couchsurfer | Oscar and Jane invite a couchsurfer named Jack to stay at the apartment. Emily is not happy about it. | 4:26 | Mar 6, 2015 |
| 12 | Em and Em | Emily and Emmy go on a hike and learn more about one another. | 6:30 | Mar 13, 2015 |
| - | Pluff Extended Edition with Bloopers | More footage of Epic Scrabble! | 3:22 | Mar 18, 2015 |
| 13 | Hit the Road, Jack | Jack sits down for an interview with Emily and Oscar. | 5:46 | Mar 20, 2015 |
| 14 | Rulebreakers. | With Emily out of town, Oscar and Jane decide to break some roommate rules. | 5:11 | Mar 27, 2015 |
| 15 | Just...watch. | Jane tries to set the record straight. | 7:08 | Apr 3, 2015 |
| 16 | Muffins. | Emily returns and tries to console Oscar. | 7:17 | Apr 10, 2015 |
| 17 | A Special Announcement | Emmy has an announcement about her sister Charlotte! | 3:37 | Apr 17, 2015 |
| 18 | An Unexpected Adventure | A surprise guest takes Emily out of her comfort zone, and out of the house, on an adventure. | 3:22 | Apr 25, 2015 |
| 19 | I Stand...Confused | Jane discusses her feelings about a relationship versus a career, and where her priorities lie. | 4:46 | May 1, 2015 |
| 20 | Oh, my God. | Jane has exciting news about her book! | 2:21 | May 8, 2015 |
| 21 | Dead Week | Emily and Jane indulge in some much needed retail therapy. | 4:44 | May 15, 2015 |
| 22 | Storytelling | Events went down with Oscar. Jane has his back while he tells his side of what really happened. | 6:15 | May 22, 2015 |
| 23 | Moving Day... | The trio decide to end the video project. In this emotional finale, everyone says their goodbyes and hopes for the future. | 7:54 | May 29, 2015 |